Description
Adakah anda penggemar Cheese?
Memperkenalkan! Salim Triangle™ Cheese!
Cheese dengan rasa sebenar… sangat sedap jika dimakan dengan roti atau dimakan begitu saja! (Ya! Anda pasti akan terus makan tanpa henti!)
Salim Triangle Cheese ini adalah cheese yang diproses dari susu lembu yang sebenar dari tanah Arab.
Anda boleh makan cheese ini secara langsung.
FEEDBACK PELANGGAN
"Masak ayam butter guna cheese, lemak2 rasanya"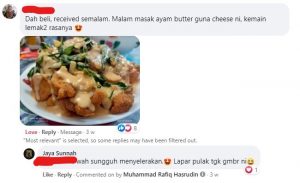 "Dapat-dapat terus buka makan, sedap cheesenya."
"Siap dapat freegift lagi"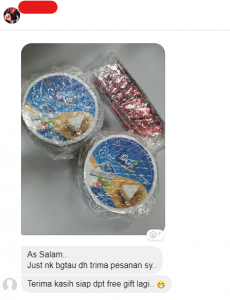 "Sedap..Anak-anak pun suka"
"Anak dah makan 3 slices.."
"Satu cube boleh makan dengan 2-3 keping roti.."
"Sedap la cheese, budak2 ni memang suka makan"
TERDAPAT 8 PECAHAN!

Dalam setiap box, terdapat 8 pecahan.
Setiap pecahan berbentuk segi tiga.
Mudahkan anak-anak makan? Satu pecahan satu keping roti.
MUDAH DIBAWA KEMANA-MANA!
Saiz cheese yang kecil ini menyebabkan anak-anak mudah bawa kemana-mana. Nak jadikan bekal ke sekolah pun tidak ada masalah!
BUNGKUSAN YANG KEMAS!
Anda tak perlu risau jika bungkusan ini diterbalikkan. Bungkusan yang kemas menyebabkan kualiti cheese ini tetap terjaga walau apa keadaan.
Siapa yang harus memiliki Salim Triangle Cheese ini:
Ibubapa yang ingin bekalkan makanan anak di sekolah
Ibubapa yang mahu berikan makanan berkhasiat untuk anak-anak
Mereka yang meminati cheese yang sebenar
Mereka yang suka travel dengan makanan yang sedap dan mudah
Bahan-bahan kandungan:
Processed Triangle Cheese Analogue Modified With Vegetable Oil
Ingredients: Cheddar Cheese(made from Cow's Milk with Salt and starter culture), Milk Fat, Milk Solids, Emulsifying Salts (E450, E452, E339), Food Salt, Water, Citric Acid, Vegetable Oil (Palm Kernel oil), Preservative (E202), Food Stabilizer(E407), FDM 50% Minimum.
---
MAKLUMAT PENGHANTARAN:
Kami akan menguruskan penghantaran selama 24 jam menggunakan J&T atau NINJA VAN. 
Kami hanya menjual barangan READY STOCK dan penghantaran dari Malaysia.
Produk akan dihantar ke depan pintu rumah anda selama 2-3 hari bekerja.
---
JAMINAN KAMI:
Kami hanya membekalkan produk berkualiti. Kami menyediakan perkhidmatan sokongan dan bantuan kepada anda. Setiap produk akan diperiksa dahulu sebelum dihantar. Walaubagaimanapun jika ada sebarang kerosakan, sila maklumkan kepada kami. Kami dengan senang hati akan menukarkannya dengan yang baru.
---
Soalan Lazim
1. Salim Triangle Cheese ni boleh pos ke?
Ya, boleh pos. Kami buat penghantaran ke seluruh Malaysia.
2. Tak rosak atau cair ke kalau pos?
In shaa Allah tak rosak atau cair, cheese ini boleh disimpan pada suhu bilik.
3. Tahan lama tak cheese ni?
Ya tahan lama. Untuk batch setiap stok, kami anggarkan ketahanan Cheese selama 9 bulan.